I have chosen Damien Hirst (D+H), Tracey Emin (Eminent) and Grayson Perry (Miss Clair) as, in my opinion, they embody in different ways contemporary art luxury brands. Here is why I think that each one of these artists is a good case study for Brand Art Sensation.
D+H; Damien Hirst & Advertising Shock tactics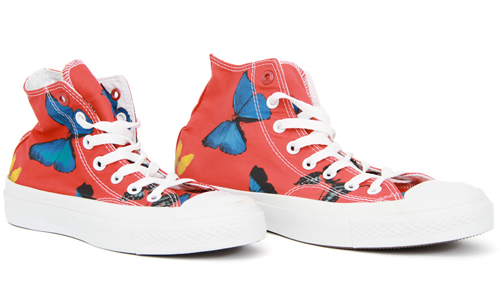 I could not make my point without including D+H. He's the quintessential brand artist, exceeding anyone else in being his own brand and business managers. He has been using "shock tactics", another extremely successful marketing trick for attention grabbing.
Here is why I think, and we all see him as a brand:
Multiple collaborations with fashion brands: Olsen, Alexander MaQueen, Prada, Hoorsenbuhs, Levi's, Supreme, Marc Jacobs, Lalique, Converse, LV, Absolut Vodka, Becks beer, Manolo Blahnik, Brit Awards 2013, Brandy Somerset Cider

He has changed the traditional art business by selling a complete show, Beautiful Inside My Head Forever, at Sotheby's bypassing his representing galleries

Restaurant co-owner of Quo Vadis

Art collector

Museum founder

Artist-entrepreneur

Wealthiest living artist

Luxury brand manger

Charity founder

Helps raising money for some charities

He is often criticised for not being an artist
Eminent; Tracey Emin & the Advertising mantra: Sex sells
I like her; she is the most prominent woman artists in the UK, she is part of the establishment (awarded a CBE and RA) and is known to have a good sense of humour. She is often misunderstood, many don't like her work and associate her just with provocative works and sexually explicit images. There is much more to Eminent than that. One needs to read her book to fall and participate in her story like few other books I have ever experienced. Hers is a story of bravery and intimacy, but also of great sensibility; quite opposite to what people associate with her.
However, in advertising people say: sex sells, so one could argue that sex also sells in art, which is something intrinsically true and appropriate to all forms of art throughout history. So I have chosen her as if she was a brand she would be known for being "provocation, sexy and brave.' And she is comparable to a brand for the following reasons:
She started her artistic career by opening a shop (1993)

Has collaborated with Selfridges and Co., Le Pliage, Serpentine Shop, Mark Hix's wine bottles, Fiat 500

Sells plenty of merchandising items with her trademark signature

She is a celebrity

Used sex to sell

Her work is self-centred

She has opened her own branded shop in the Spitalfields Market

She has collaborated with many labels: Banjo & Matilda,

She has endorsed: Bombay Sapphire Gin, M&S, and Becks beer

She raises money for charities
Miss Clair: Grayson Perry & Advertising Character Endorsement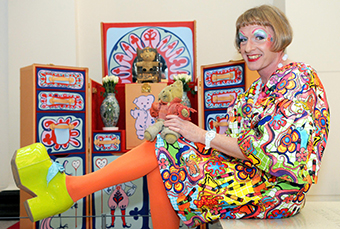 I choose him because I think he's one of the most inspiring modern/contemporary British artist; secondly, because I wanted a contemporary celebrity. He embodies two in one: himself and himself in a dress. Brands often start thanks to a celebrity founder, someone with populist views or are brought to the public attention through celebrity or characters endorsement: an old marketing trick which is wide spreading today more than ever. As Eminent, he behaves like a brand for the following reasons:
He is a celebrity, TV presenter, spokesperson

His multiple collaborations with brands and institutions: The trunk for Vuitton, Liberty art fabrics

He raises money for charities and supports art education

He hates brands uniformity

Satire on consumer culture

He's not part of YBAs

His work reflects on the contemporary artist figure and consumer culture

His book Playing to the Gallery is a re-elaboration of his four Reith Lectures

His work is often auto-biographical

British Museum curator for a 2013 exhibition

National Portrait Gallery, Tate, British Museum merchandising

Winner of the Turner Prize

His tapestries have television series devoted to them